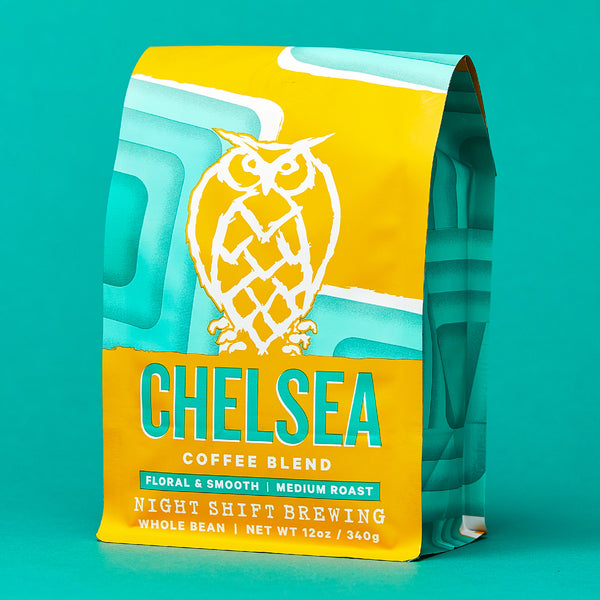 Chelsea is one of our three flagship blends - a careful mix of two Ethiopian coffees. The marriage of the floral acidity in both coffees with the milk chocolate base creates a floral and satisfying drinking experience.
As a drip coffee, Chelsea presents a soft, clean-bodied cup while emphasizing a distinct, sweet tea flavor throughout. The cup finishes with the lightly fruity citrus flavor while maintaining a deep floral presence.
As an espresso, Chelsea presents a bright citrus blossom acidity with a soft, red tea body. The shot finishes with a subtle lavender note.
COFFEE BLEND

66% Ethiopia
  Region: Sidamo
  Process: Washed

34% Ethiopia
  Region: Yirgacheffe
  Process: Natural

Tasting Notes:
  Citrus
  Sweet Tea
  Lavender

Roast Level:
  Medium
Chelsea medium roast
Best coffee- bar none! My whole house loves it
Favorite coffee
The Chelsea roast is my stand by go to favorite roast!
Chelsea has been better.
Other times I have ordered Chelsea it was definitely fresher. Also this time the coffee was more of a light roast rather than a medium roast.
Favorite Beans
These are my go to beans for my espresso drinks . Love it so much we order it from PA. Have easily tried 30+ different beans/roasters with this being our favorite.
Love it, but goes quick!
My favorite coffee roast! Good body, good flavor, wonderful cup of brown.
My only gripe is that the bag it's sealed in seems to let a bit too much air in.