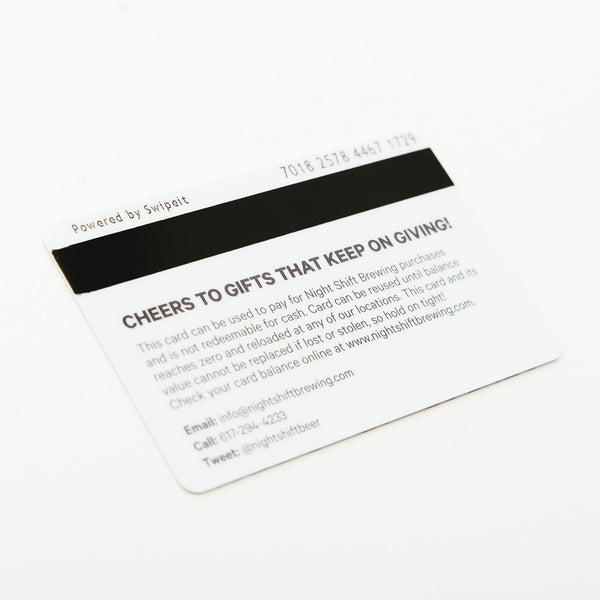 Give the gift that keeps on giving! Want to show you care but don't know if that special someone prefers IPAs or branded hoodies? Fear not! The Night Shift gift card is the perfect gift for any beer lover in your life.
Note: To view card balance or purchase e-cards CLICK HERE. 
Important - Card Usage:
Please note that Night Shift Brewing gift cards are available for use at our Everett, Lovejoy and Owl's Nests locations as well as online at checkout. They are not available for use at any other Night Shift locations.
Frustrating Experience
I had ordered merch and gift card on March 12 and got an email that it was shipped March 15. After a week I had not received it. So I emailed the company using the email listed on your website. No response. I then called and left a message. No response. Then I called the Lovejoy store to ask who do I need to contact to get an answer. The man took my name and number and stated there would be a staff meeting that day and he would check with his manager. No response. Finally, I called the manager on Tuesday, now more than two weeks after placing an order and he said, "Oh - we have shipped a new order to you". Do you think someone could have called to let me know rather than have to track the manager down? I realize I am just one small customer in your world. However, if you post on your website a place for people to ask questions, then have someone monitor it! Absolutely poor, poor customer service. I will never purchase from here again.
Find a Mailbox
Love Nightshift, love your beer, your swag, everything, that's the reason for the gift card for a family member; but you need to work on getting your mail in the mailbox. My gift card sat for DAYS in Everett, so I drove from NH to pick it up myself and deliver it to Cambridge. Thank you for crediting my shipping, and thank you for brewing great beer.
Easy Peasy!
Sent the card across country really fast. And the food there is great!
Lost its way
I ordered a gift card on a Thursday, paid extra for priority delivery so my son in law would have it by that Sunday, his birthday.
It didn't get there. I received a notice that it had shipped on the following Monday. I checked its status and it was supposedly then in Grand Rapids Michigan (instead of Charlestown MA where he lives.) I contacted Nightshift and received a very courteous answer saying they didn't know what happened but would take a gift certificate over the "next day" but it didn't arrive the next day but another two days later and finally from the USPS, so more than a week after his birthday.